NO ASSEMBLY, NO CONFIGURING, NO HASSLE REQUIRED!  JUST PLUG IT IN AND ENJOY.
5 Year Warranty on Buttons and Joysticks, Lifetime of Software Updates!
Call us anytime to discuss or have your questions answered. 435-627-2425
Why ours?
• High quality cnc machined cabinet grade birch ply (not MDF or particleboard). Hand sanded and painted.
• We use Computer monitors that are made for close viewing, not T.V's
• Amplified stereo speakers with Subwoofer.
• Top shelf grade Industrias Lorenzo Buttons (the kind used on Real arcades).
• Competitive Quality Suzo Happ and Industrias Lorenzo Joysticks.
• High Speed Micro-switches. Zero lag!!
• Raspberry Pi 4 system.
• Packed with too many games to list.
• Multiple save slots for each game. This means everyone in the family can have their own slot.
• Plexi glass covered screen and control deck.
• 5 year Warranty on Joysticks and Buttons.
• 2 player dims: 66" H X 31.5" wide X 24.5" deep
• 4 player dims: 66" H X 47" wide X 29" deep
Additional Details
Warranty Details
We build these machines so that should there be a problem we can ship out replacements parts and they can be installed by the user with minimal effort.  Instructional videos will be available to walk the consumer though the process.  Our joysticks and buttons are industrial quality and rated for millions of actions.
Screen Details
We use premium HD computer monitors, we don't use cheap televisions.  Computer monitors were intended to view at close range, so they have better clarity and a much better viewing angle.  Don't send a bunch of money on an arcade that has a crappy screen.  
Upgradeability
The arcade is equipped with the most current Raspberry PI hardware.  As Raspberry pi releases new hardware, our arcades will be upgrade-able for minimal costs.  We also offer a Lifetime of software updates.
Light Guns
We have dialed in our system to use the Sinden Light Guns.  These are the latest in gun technology and far more accurate than any other on the market. Using a camera instead of a light laser there is no need for an extra bar on your machine, Play games like Virtua Cop, House of The Dead, Time Crisis and Duck Hunt. Our system has 294 configured light gun games.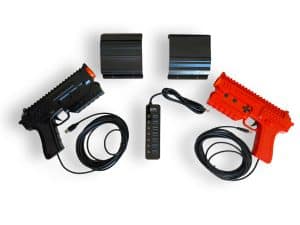 Joysticks
Competition quality, not cheap imports.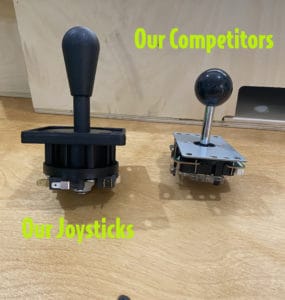 Classic Games
A couple classic game demos.
https://youtu.be/Zk24Eirp2aw
Sports Games
A couple Sports Clasics being demoed. 
Send me the List of Games.
| | | | |
| --- | --- | --- | --- |
| Size | Screen | Joysticks | Trackball Standard |
| 2P | 24" | 2 | Yes |
| 2PL-XL | 32" | 2 | Yes |
| 4PL | 32" | 4 | Yes |
Additional information
| | |
| --- | --- |
| Weight | 40 lbs |
| Dimensions | 30 × 30 × 60 in |
| Players | 2 Player, 4 Player, 2 Player XL |